Looking for the ultimate software platforms for hassle-free cannabis ordering? Look no further! Discover the best options out there!
Are you a cannabis business strategist looking to streamline your ordering process? You're going to want to keep reading as we break down the best cannabis software platforms for ordering.
In today's digital age, marijuana software platforms can offer a convenient solution to managing orders and inventory. But with so many options available, how do you choose the best one for your business?  That's where we come in. We are cannabis digital marketing experts who can help with software selection and driving traffic to your website to attract more customers.
So let's dive in and explore the top cannabis software platforms for ordering, with insights from Evergreen Cannabis SEO to help you make the most of your investment.
Dutchie is a cannabis software platform that offers retailers all kinds of solutions to develop and grow their customer base. Even though it has only existed for five years, Dutchie now works with over 5,000 dispensary partners and they're planning to expand even more. 
Duchie stands out from the crowd with its unparalleled customer service that promises a swift response within just 60 minutes. Their dedication to customers goes beyond addressing concerns — their blog educates users on all aspects of the cannabis plant.
Finally, they have continuously donated to the Last Prisoner Project, a non-profit organization that focuses on helping people who have been incarcerated for cannabis offenses in US states where cannabis consumption isn't considered a crime anymore.
The next platform on our list is WeedMaps, a platform that integrates solutions for cannabis businesses and cannabis consumers. By using this platform, cannabis businesses can market their products and consumers can search for the products they need. This platform offers an abundance of information on thousands of cannabis products, strains, emerging items, online orders, retailers, and brands. It delves into the marijuana plant, shedding light on everything from its usage and legal stance to its history.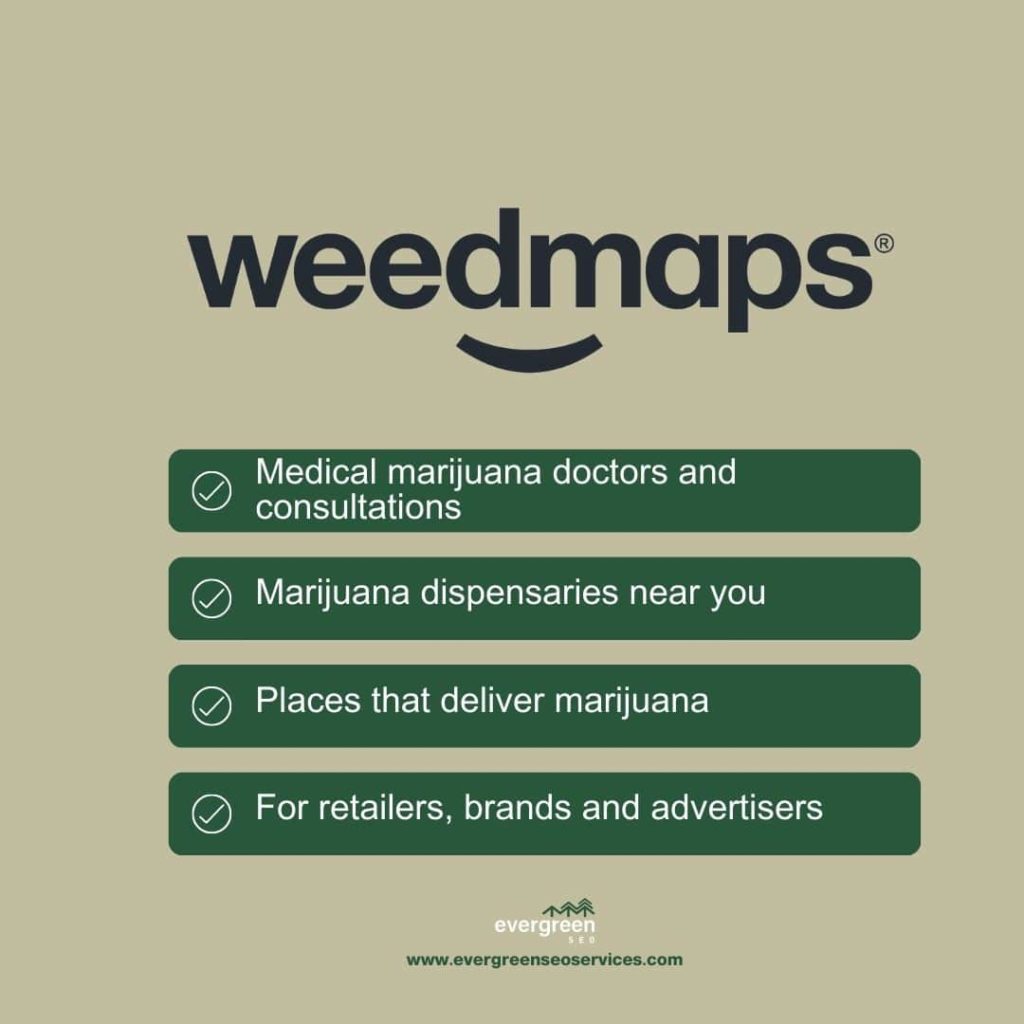 Cannabis companies can take advantage of their WeedMaps for Business product suite and scale their business by using the information on logistics, point of sale, wholesale, and ordering solutions that the platform offers. 
Other benefits WeedMaps provides include:
Retailers: increase visibility, showcase unique offers and deals, and manage your wholesale biz to get discovered by active consumers.

Brands: showcasing your brand and products, growing your brand distribution, and making it easier for customers to find your product.

Advertisers: elevating the brand message and driving more awareness, reaching new customers, and marketing more effectively and cost-efficiently.
If you've been following the cannabis scene for a while, you've heard of Leafly. With over 100 million website visitors per year, it's one of the most popular platforms where you can find cannabis products from licensed retailers and research local and national cannabis businesses.
On Leafly, you can list your CBD/Cannabis store or company, increase your brand awareness, and advise cannabis consumers about serving sizes and the possible effects of consuming cannabis products.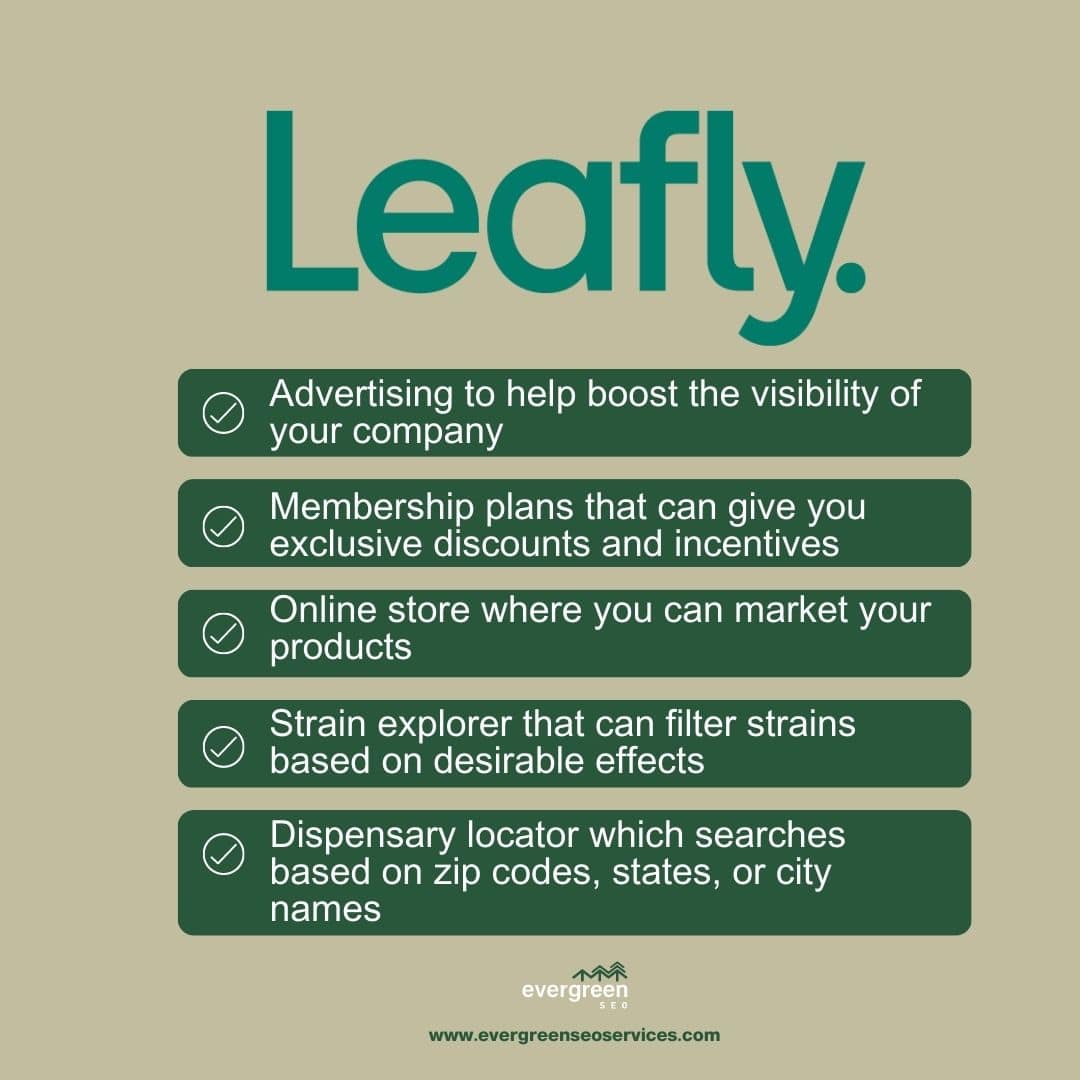 Leafly works with over 4,600 online retailers and 7,800 brands that offer a wide selection of cannabis and CBD products ranging from oils to tinctures, topicals, pet products, and many more.
Another tool which can be incredibly useful for anyone looking to learn more about the properties of cannabis is the Leafly strains database. Containing over 5,000 different strains, the database explains the nuances between them, detailing their individual characteristics and effects. Whether you're new to smoking or a veteran, this database is an excellent resource to help select the right strain for your needs..
Leafly offers a fantastic resource for people new to the cannabis culture. In addition to their selection of products and educational material on cannabis laws, their blog, Leafly Learn, contains over 11,000 useful articles to help beginners learn about different products, methods of consumption, and laws. 
More information on our blog: check out our in-depth comparison of Weedmaps Vs Leafly Here.
Dispense empowers dispensaries to own all customer data and utilize it for sales tracking. This includes marketing channels like ads, cannabis SEO and email marketing. The cannabis software platform provides dispensaries with eCommerce and management tools for scaling and streamlining operations, delivering an unparalleled customer experience to help achieve business goals.
In addition, they work with many cannabis retailers, such as:
Single-state operators.

Dispense creates tech and tools for these retailers, giving them what they need to promote their products, with the same requirements as multi-state operators.

Local stores.

Dispense also works with smaller businesses and helps them to expand and develop their customer base while also providing excellent customer service.

Delivery depots.

The company even works with dispensaries that don't have a physical location and only do delivery.
One the best options on this list, and honestly, I totally recommend it.
Dispense Services
Some of the services they offer include:
Creating a true eCommerce website for cannabis companies

Focusing on customer service, retention, and repeat visits

Chat feature that allows communication to customers through SMS text messages which reduces the customer waiting time

Easy ordering with their contactless technology, as well as providing in-store pick-ups delivery, curbside pickups, kiosk ordering, and other purchasing options

Efficiently running day-to-day to-do's for dispensaries and focusing on developing their SEO strategy

An interactive dashboard that provides comprehensive data about which tactics are working and how well they're working
This solution arms cannabis businesses with traditional e-commerce stores for listing products and categories. What makes this important? Unlike Dutchie – where an I-frame setup limits search engines to indexing only one shop page – Dispense promises all-inclusive indexing of anything you have in stock. This helps generate massive search traffic and audience differentiation, thus boosting customer relationships and business growth.
This is why many cannabis businesses prefer Dispense.
For more information, we welcome you to contact Evergreen!
The final platform on our list is FlowHub which focuses on making safe cannabis products accessible to everyone. They work with over 1,000 cannabis dispensaries and are actively involved in the federal legalization of cannabis. In fact, the platform is committed to advancing racial justice and social equity by working with policy, technology, and media organizations for both recreational cannabis consumers and medical patients.
Some of the services they offer include:
FlowHub's main advantages: expertise in cannabis dispensary SOP creation, templates, and hardware recommendations for retail operations. As an example, partnering Hub provides a wealth of benefits, most notably expertise in dispensary optimization to meet its unique demands.
They also proffer a suite of tailored models: Bank, Pharmacy, Mobile, and Kiosk, allowing you to select the ideal fit for your dispensary. FlowHub provides design solutions, customer journey insights, and regulatory compliance for dispensaries. In essence, FlowHub unearths our industry's potential and helps maximize your dispensary's success.
The FlowHub platform provides a glossary of dispensary terms useful for beginners and experienced cannabis consumers alike. Lastly, the glossary covers different slang, terms, and acronyms which helps you dive further into the uses of the plant, while the blog gives you additional information about the cannabis plant, legalization laws, and relevant news from the cannabis market.
Final Thoughts on Cannabis Software Platforms for Ordering
As the cannabis industry continues to grow, the need for reliable and efficient cannabis software platforms for ordering is more important than ever.  Our article has highlighted some of the best platforms available today, each with its unique strengths and benefits. So, whether you're a small business or a large dispensary, there's a platform for you. 
However, with so much competition, it's essential to find ways to stand out and attract more customers. That's where Evergreen Digital can help.  Contact us today for a free website analysis and learn how our SEO expertise can help you drive more traffic to your site and increase your orders through your chosen cannabis software platform.