Cannabis Marketing 101: How To Reach Your Target Audience and Boost Your Brand
Looking to promote your cannabis business, but don't know where to start? Look no further! Cannabis Marketing 101 has got you covered with all the basics you need to succeed.
As the cannabis industry continues to boom globally, cannabis companies must differentiate themselves in a highly competitive market. However, advertising cannabis in the US faces significant challenges due to its federal illegal status. Many conventional advertising channels are off-limits for cannabis-related products, and strict regulations regarding the promotion of CBD and cannabis on search engines and social media platforms further compound the issue.
At Evergreen Digital we understand the challenges that cannabis companies face when it comes to marketing their products online. That's why we're here to help. Our team of cannabis SEO experts can guide you through the ins and outs of cannabis marketing and help you utilize the most effective marketing tools to promote your business.
With our help, you can set your brand apart in this highly competitive landscape and reach your target audience with ease!
Contact us today to get a free SEO analysis and boost your cannabis marketing!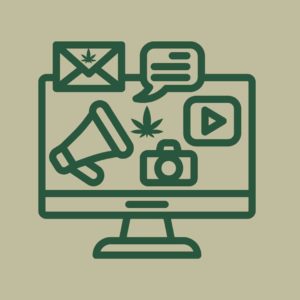 Cannabis Marketing 101: Alternative Marketing Channels
As we mentioned, a good marketing strategy is essential for your cannabis business mainly because you can't rely on traditional advertising options. Since cannabis is still illegal on a federal level in the USA, companies can't advertise through TV, radio, and other marketing channels.
For this reason, cannabis companies have become very adaptable and always find new and creative ways to connect to potential customers. Persistence and extensive industry knowledge are essential for promoting your brand and reaching your target audience, and we'll give you all the information on how you can do that by reviewing the following alternative marketing channels.
Paid Search
Generally, you're unable to use paid search as a tool to acquire more customers since Google's ad policy doesn't allow ads for "substances that alter the mental state of consumers". Even though you can find some ads for local dispensaries here and there on the web, these terms haven't changed as of yet.
If you own a dispensary, you may apply for a Google My Business account and access your customers that way until the regulations change.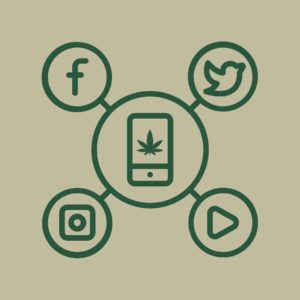 Social media platforms are today's most effective marketing tools that a lot of companies leverage to build their brand, promote their products/services, and connect with their customers.
Unfortunately for cannabis companies, using paid advertisements is not an option due to strict policies similar to those of Google. However, you can use these platforms to establish your social media presence as a cannabis brand and engage with your potential customers.
A Facebook business page can be invaluable to your business as you can use it to drive traffic to your website and answer your potential customer's questions on the Messenger app.
Moreover, you can encourage your customers to tag you in photos where they use your products so you can share them on your page to increase your social proof.
You can also share relevant and valuable content that your audience would like to share, link to your blog posts, use hashtags, use eye-catching visuals like infographics and videos, and so on.
Social media is excellent for marketing topical hemp products since there are no bans on social media for these types of products.
Remember to always follow the guidelines of the social media platform when making your posts as accounts get shut down all the time, sometimes with zero warning.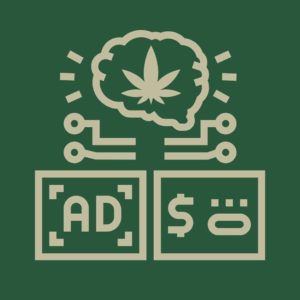 Programmatic Advertising
This next marketing tool is slowly but surely gaining traction. Programmatic advertising allows you to pick out potential customers based on the content they're consuming. This type of advertising is one step ahead of paid search as it connects people who are searching for the product to your brand through its four major components:
Demand-side platform (DSP)
Supply-side platform (SSP)
Data management platform (DMP)
>Ad exchange
Each part allows effective trade between the company that sells the product and the customer who wants to buy the product. Even though this type of marketing was initially a method for buying inventory that nobody wanted, it has evolved to sell many premium products, one of which is cannabis.
Even though there are still some difficulties when using programmatic advertising for cannabis because of the restrictions, there are a lot of marketplaces that allow you to advertise your products, such as Leafly, Weedmaps, and others, and their number is only expected to increase in the future. When advertising your products on these platforms, however, you need to be careful not to make health claims, provide relevant and valuable content, including CTAs, and avoid depicting cannabis consumption.
You can also reach out to platforms that allow cannabis ads and secure your spot by negotiating a rate either on cost-per-thousand views (CPM) or a cost-per-click (CPC) basis. Platforms you can contact for these services include High Times, Leafly, Weedmaps, Marijuana Business Daily, Kush Klicks, and others.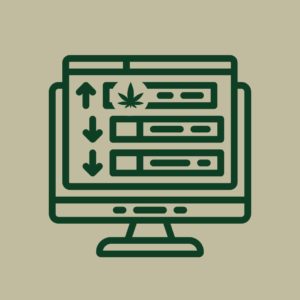 Content and SEO
One of the best cannabis marketing strategies that you can use for your cannabis business is an effective content strategy. Whether you want to sell products locally or globally, building your website is the way to do it.
Compared to social media marketing where you don't own the platform you're advertising on, having your website enables you to build the domain you own and grow your customer base without having to compete with other brands since the site belongs only to you and your products.
We highly recommend optimizing your site for search engines so you can rank higher when users search for local businesses and brands or specific keywords.
This will only be possible if you research keywords that are moderately searched so you don't compete for high-competition keywords that are very hard to outrank.
Here are the most important steps toward improving your cannabis business's online presence:
Establish and optimize your website.
Your professional website should be both desktop and mobile-friendly and contain all the relevant information about your cannabis business, such as information about your brand and the products that you sell, contact information, store hours if you own a shop, testimonials, and reviews, and of course, a blog.
Create SEO-optimized content. 
You should first focus on doing keyword research to find the specific keywords you want to rank for. Remember to opt for mid-range keywords, so you won't have as much competition. Afterward, you should create a content strategy so you can start creating your content. Make sure that you include internal as well as external links and SEO-optimized images. These are just the basics, as there's a lot more to SEO-optimized content that you should look into.
Get listed in directories. 
You can get listed in local and cannabis-specific directories to increase the chances of being found by potential customers.
Have a review section on your site. 
Reviews can be especially beneficial for building a positive brand image and attracting potential customers. Remember to answer all the reviews, whether they're positive or negative, to create a strong brand image and show that you care about your customers.

Email Marketing
While cannabis marketing is behind on some fronts, email marketing isn't one of them as it's still one of the most effective marketing tools for cannabis companies. This is because there are no restrictions and you can communicate your message to all of your subscribers and customers.
You can collect email addresses by asking customers to sign up to your email list during an online or in-store purchase and even offer a discount for those who do. This tool is a great way to target prospective customers and build leads. What's even better is that you can provide deals and discounts to your most loyal customers to ensure that they keep coming back for more.
This way of advertising is great for dispensaries and cannabis companies that are slowly building their client base, but also for multi-state operators.

SMS Marketing
Never underestimate the power of SMS marketing, especially when it comes to the cannabis industry where your marketing options are limited. Even though this isn't the most preferred method of marketing for a lot of companies due to regulatory and privacy concerns, sending MMS or SMS may be the key to incentivizing customers.
By using SMS marketing, you can communicate the launch of new products, inform customers about new deals and discounts, provide targeted offers, and keep them in the loop about any news related to your brand. You can motivate customers to sign-up for your SMS marketing list by giving them discounts and deals when shopping online or in-store. This type of marketing is especially beneficial for dispensaries that have new products coming in all the time.
Out-Of-Home Advertising
If you want to expand your reach away from the digital marketing sphere, you can also try out-of-home advertising which includes billboards, cab ads, bench ads, and other types of out-of-home ads.
While the regulation on out-of-home advertising for cannabis still varies from state to state, some states do allow it, such as California. As a result, cannabis companies are starting to place a lot of creative billboards and ads in strategic places to make the most out of this marketing method.
It's important to note that different states have different regulations concerning this type of advertising, so make sure to check the regulation in your state before you start planning your campaign, though some general advice would be to:
Avoid making claims
Avoid depicting cannabis consumption
Never put the ads close to a school
Add a disclaimer
While it isn't as easy to keep track of the effects and return on investment (ROI) of this type of marketing, there are some ways you can measure this:
Use direct response as a way to measure sign-ups based on entry points as well as site traffic. To do this, you need to make a specific URL for the billboard or bench ads so you can locate your potential customers even more precisely.
Use a survey on your site where you can ask the visitors where they heard about your brand or product.
Out-of-home advertising is especially effective for dispensaries and companies that want to advertise their products and expand their business locally.
Brand Ambassadors, Sponsorships, and Word-of-Mouth Marketing
Finally, we come to the newest method of advertising which combines the use of brand ambassadors and word-of-mouth marketing. For this reason, it's important to cultivate a good relationship with the most influential customers, as they can become your future brand ambassadors. Influencer marketing is becoming the new normal as its effectiveness is undeniable, so investing your efforts here has a high chance to result in expanding your customer base.
Creating excitement around your brand generates buzz and cultivates a word-of-mouth marketing strategy, encouraging customers to not only talk about your products but to also refer them to friends and family. Once the hype is established, it's the perfect time to think about incorporating a loyalty program. Make sure to start a loyalty program to reward faithful customers and entice first-timers to return.
The Best Approach for Cannabis Marketing
Navigating the complex world of cannabis marketing can be a daunting task, but with the right approach and the right team behind you, you can achieve success.  While the regulations surrounding cannabis marketing are still evolving, it's important to rely on the marketing channels we've discussed in this article.
And as a leading digital marketing agency, Evergreen Digital can help you create a customized and effective marketing strategy that works for your cannabis business. With our expertise in SEO, PPC, and social media, we can help you increase your online visibility and drive more traffic to your website.
Contact us today to learn more about how we can help you grow your cannabis business