Starting a CBD brand takes a lot of planning, adherence to ever-changing rules and regulations, and all kinds of other challenges. One of those challenges is figuring out which keywords customers might use to find your brand and the products you offer.
Below you will find the three keywords that CBD brands should be focused on, but before we get into that let's back up a second and start from the beginning. We all know that Google is the most popular website in the world, right? And how do people find things on Google? They enter search terms, called keywords.

Once a user enters a keyword they are then shown a list of relevant websites based on the search term they entered. The entire goal of CBD SEO is to help determine which keywords a business should be ranking for, and then to implement a strategy that improves their visibility in search results provided for that keyword. This post will cover the first part of that equation, as to which keywords your brand should be targeting. And of course, our Free Cannabis SEO Evaluation can assist you with the rest!
So without further delay, here are the 3 keywords every CBD brand should be ranking for:
1. "Your Brand Name"
2. "Best CBD Your Product"
3. "Buy CBD Your Product"
1. "Your Brand Name"
The single most important keyword CBD brands need to focus on ranking for is their brand name.  There are a lot of people talking, and writing, about CBD, and often times CBD brands that are just starting out don't even show up first when a consumer, potential investor, or member of the press searches for their brand name. So first and foremost they need to secure that digital real estate. And don't just stop at the first result; your brand's social media profile should also rank. Ideally, the entire first page of results should be different properties for your brand!
2. "Best CBD Your Product"
This is a very important keyword to rank for as a CBD brand. If you are the owner of a CBD Brand I don't have to tell you that competitors are popping up daily! Being able to rank for a term like this can be absolutely huge in terms of driving traffic to your website. Let's take a CBD Brand with a focus on tinctures. 1000's of people search every month for "Best CBD Tincture" and having your website show up for that search would be monumental in terms of driving direct sales on your website.
3. "Buy CBD Your Product"
To ensure your brand gets discovered by users searching for CBD products, it's crucial to establish a strong online presence. Given that these products are commonly sold directly through e-commerce stores, it becomes imperative to enhance your visibility and reach. The people performing this search are right at the bottom of the funnel typically, ready to convert to a sale. Customers have already conducted extensive research to identify their desired product. Now, their objective is to find a dependable source for the purchase. It is widely recognized that your brand must be the one they encounter in their search, surpassing your competitors.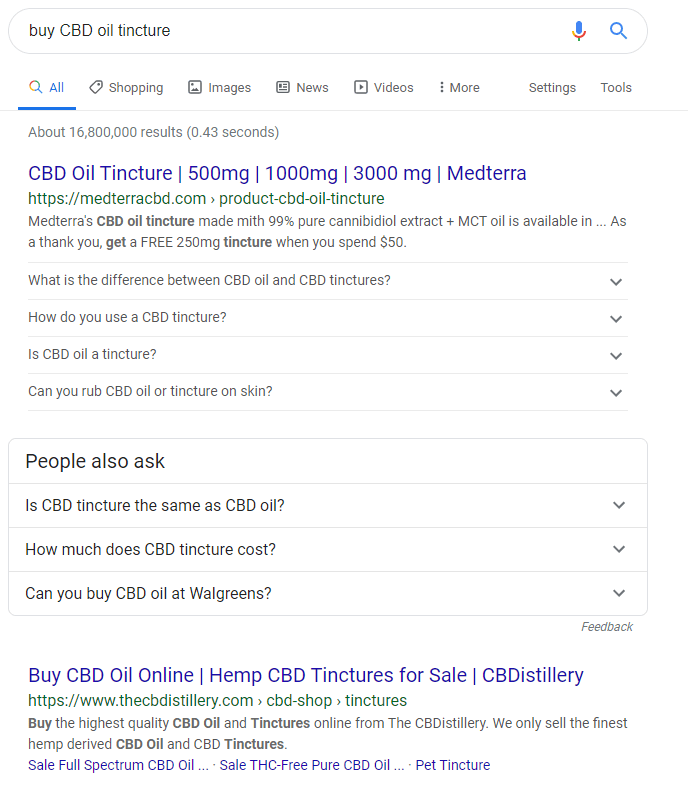 Need some help with SEO for your CBD Brand?
Don't hesitate to reach out! Schedule an appointment with one of our knowledgeable SEO experts today. Discover more about our specialized SEO Services for Cannabis Brands or take advantage of a complimentary, tailored SEO Evaluation. We're here to help you thrive!